Enjoying All That Long Island Has To Offer
---
The Loving long Island Newsletter brings you the latest additions to my experiences on Long Island.
If you like this e-zine, please do a friend and me a big favor and "pay it forward."
If a friend did forward this to you and if you like what you read, please subscribe by visiting the Loving Long Island Newsletter subscription page.
---
October 7, 2009
Volume 3, Issue #09
Okay, I got over it. It took a month but I have now fully embraced fall and all the wonderful things this season has to offer.
The cooler weather is much appreciated, the trees are starting to change color, and there's that smell in the air. Soon we'll be wearing coats, hats, shoveling snow. Ahh, something to look forward too :)
Photo of the Month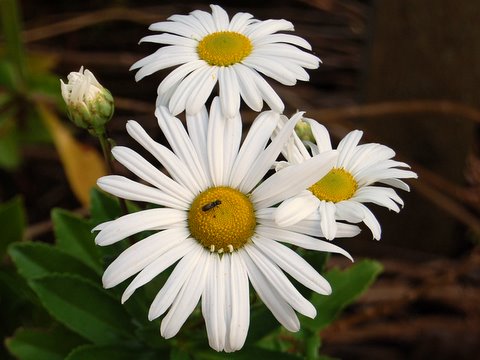 Montauk Daisies and a tiny wasp
These are one of my favorite flowers. Every fall, just when most things start dying, the Montauk daisies come to life. I look forward to the daisy bloom every year.
If you have these plants growing in your yard cut them back to the ground after the flowers turn brown. Then around June 1, cut them back halfway to the ground. That will produce nice, bushy plants that won't flop over when the flowers bloom.
If you like, you can root the June cuttings to make even more Montauk daisies.
Your Stories
In last month's newsletter I asked readers to write about what they enjoyed most about Long Island this past summer. Well, Roe from Rye did a beautiful job with her essay Summers Revisited. Thank you, Roe.
And inspired by a blog post I did last year, Chris from Arizona reminisces about Captain Eddy's, a small, long gone fishing station in Seaford.
Events
Fall is an active time of year on Long Island. Every community, farm, museum, or vineyard is having a fall festival of some sort or another.
One of the more unusual events held at this time of year is the annual Halloween boat burning at the Long Island Maritime Museum.
Every year a big old wooden boat that is of no historical value is set afire by the local fire department. The event draws thousands of visitors and features music, cider, snacks, and a boat raffle.
Information about more traditional fall events on Long Island can be found at the Long Island Convention and Visitor's Bureau.
The Long Island Blog
In September I...
Wrote about sea scallops
Reviewed Kingston's Clam Bar
Photographed a hummingbird in my backyard
Met Gail King - Miss Senior New York
Photographed sunrise on the first day of fall
Visited the Long Island Maritime Museum.
Read all about it and see the pictures on The Long Island Blog for September.
Until next time...
Best regards,
Bill Drago
Editor & Publisher
Loving-Long-Island.com
P.S. If you are having trouble viewing this newsletter use the back issues link below to open it in your browser.
---