Enjoying All That Long Island Has To Offer
---
The Loving long Island Newsletter brings you the latest additions to my experiences on Long Island.
If you like this e-zine, please do a friend and me a big favor and "pay it forward."
If a friend did forward this to you and if you like what you read, please subscribe by visiting the Loving Long Island Newsletter subscription page.
---
November 11, 2009
Volume 3, Issue #10
As we race headlong into the holiday marathon it's sometimes hard to remember to enjoy the sights and smells of autumn.
On my way to work, the day before yesterday, I saw a lake covered in fog. It was a spectacular sight. I wanted to pull over and take some pictures, but that's not the sort of thing you're supposed to do when your boss is expecting you.
On the other hand, my boss is expecting me at work every day and the fog is only there once in a while. I stopped and took my pictures. I also saw the biggest bird I ever saw in my life (see photo of the month below).
It was worth stopping. And that's my point. 10 minutes out of a busy schedule is not that much time, yet it can make all the difference in your day. Not to belabor the point, but there's a lot of truth to that old adage about smelling the roses.
Photo of the Month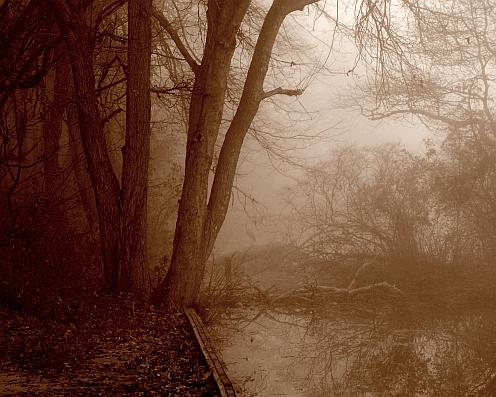 Great Blue Heron on a foggy, almost prehistoric morning

My morning commute takes me past West Brook Lake in Connetquot River State Park. The other day we had some fog and it was so thick that at some points I had trouble driving. But when I got to the lake the scene was incredible.

So much fog covered the lake that I could barely see it. I pulled over to take some pictures and something very large moving swiftly through the fog caught my eye.

It was a HUGE great blue heron. He swooped down and perched on a dead tree that had fallen into the lake not very far from where I was standing.

I moved closer taking pictures with each step. The one above is the closest I could get before the bird took off. If you have trouble finding him, look just below center.

Events

1863 Thanksgiving at Old Bethpage Village

Old Bethpage Village Restoration (OBVR) will celebrate an "1863 Thanksgiving" over two successive weekends November 21 - 22 and November 28 - 29 from 10 a.m. to 3:30 p.m.

Visitors will enjoy the sights and smells of an old-fashioned Thanksgiving, as wood-burning stoves, beehive stoves, beehive ovens and hearths are used to prepare foods and baked goods made from 19th-century recipes.

The culinary exhibits include the "spitting" and roasting of turkey in a tin reflector oven beside the Williams House hearth and preparation of pies at the Powell House. OBVR will also display 19th-century methods of food preservation employed for late fall crops.

In addition, each afternoon, historical period music will be played while at the Noon Inn, children's stories will be read several times each day.

"This program, which is itself a tradition at Old Bethpage Village, is a wonderful way for Long Islanders to connect with 19th-century American culture during one of our most significant national holidays," says Jim McKenna, OBVR site director and curator. [More info here]

More information about fall events on Long Island can be found at the Long Island Convention and Visitor's Bureau.

The Long Island Blog

October in the blog:

Gail King won the Miss Senior America title. You might remember that I ran into her last month when she was "only" Miss New York.

I received some excellent fan mail from an admired artist who paints beautiful watercolors of New York Harbor.

Long Island photographer and writer Alida Thorpe wrote a very nice piece about Davis Park, Fire Island.

Read all about it and see the pictures on The Long Island Blog for October.

Until next time...

Best regards,

Bill Drago
Editor & Publisher
Loving-Long-Island.com

P.S. If you are having trouble viewing this newsletter use the back issues link below to open it in your browser.
---